How to runCricket
Taking the role of your teams Cricket manager, use all your skills to perform business functions, make income investments, choose the best equipment / kit and select the best players your club can afford, improving their skills along the way.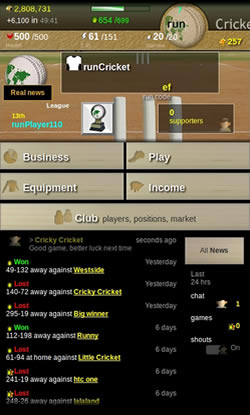 Business
Perform business functions to run your club, gain experience points, cash and loot depending on the business function you are performing.
More Business functions unlock as you progress through levels.
The business area is the fastest way to progress your level in the game.
Play
League play follow your teams progress this season.
Challenge play allows you to challenge any of the teams listed to a match. With challenge play your team plays away. Beat the other team to earn game income directly from the opposing clubs pocket.
Equipment
Use equipment to boost the performance of your team.
Income
Income provides you with regular cash to support your clubs costs and growth costs.
Increase your supporters to increase revenue from each item.


Club (players, positions, market)
Positions
Choose your teams playing style. Swap players, choose your captain, plan around penalty cards to keep your team in match fit shape.
Team colours
Style your teams kit, dress to impress!
Injury manager
Buy the injury managers resources to heal your players so they are in top shape.
My players
Manage your players, use player skill points to boost their attributes and improve their game play.
Market players, need players? need better players? Find them here on the market.
Supporters
Supporters
are the life blood of every club, they bolster the clubs income. The more supporters your club has the better.